PHARMACEUTICS: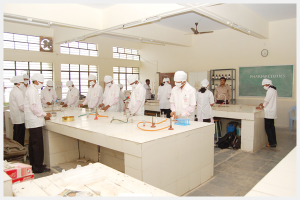 The subject deals with the practical aspects of formulation, preparation and analysis of various pharmaceuticals and cosmetics. A graduate shall be able to formulate. Store, dispense and analyze the prescription and/or manufacture the pharmaceuticals and cosmetics at the commercial level. It also helps the student to acquire knowledge and skill to apply quality assurance principle including legal and ethical aspects involving drugs, thus delivering a quality assured product as per the pharmacopoeia WHO and ISO standards. Practical aspects of product detailing and marketing of pharmaceutical products are also taught. This department organizes Pharma industrial visit, training and getting industrial projects for beneficial of students.
A list of sophisticated equipment:
Automatic tablet machine
Disintegration Test Apparatus(Digital)
Six Stage Dissolution test Apparatus
Friability Test Apparatus
Bulk Density Apparatus
Tablet Hardness Testers
Laminar Airflow Unit
Capsule filling machine
BOD Incubator
Autoclave
Hot air oven
Digital colony counter
Magnetic stirrers
Ointment sealing & filling machine
Mechanical stirrers
Ampoule washing machine
PHARMACEUTICAL CHEMISTRY: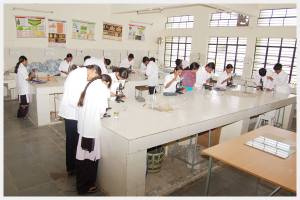 Pharmaceutical Chemistry enables the students to synthesize, purify, indentify the medicinal agent. Pharmaceutical Analysis look after the quality assurance aspects of medicines. The latest techniques and processes taught in the labs that contain a wide range of sophisticated equipments.
UV spectrophotometer
Kjeldahl's apparatus
Refractometer
Polarometer
Flame photometer
Nepheloturbidity Meter
Photofluorometer
PHARMACOLOGY :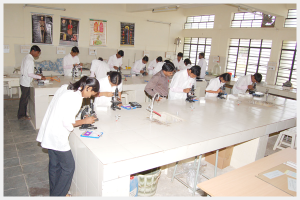 The area helps the student to gain the knowledge and scientific information regarding pharmacology of drugs, practical aspects of pharmacological screening for various medicinal agents using the animal model, pharmacology calculations, biological standardization and in vivo drug interactions and toxicity studies. These laboratories are provided with the range of equipments given below-
Sheringtone
Analgesiometer
Plethismometer
Pole-climbing apparatus
Rota rod apparatus
Actophotometer
Convulsometer
Histamine Chamber
CPCSEA approval is in process for well equipped Animal House for Pharmacological screening.
PHARMACOGNOSY:

The subject of Pharmacognosy deals with drugs of natural sources like herbal drug cultivation methods, biotechnological methods, formulation and production of pharmaceutical herbal product and their evaluation. The students develop the skill to extract, purify, indentify and understand the therapeutic value of herbal crude/natural products. This department is well equipped with instruments.
Camera lucida
Column Chromatgraphy
Projection Microscope
Clavengers apparatus
Microphotographic equipments
Soxhlet Extractors
Instrumentation Room
Machine Room
MEDICINAL GARDEN:
Medicinal garden is within the college campus and has verity of medicinal plants. Each one of them is taxonomically defined and has relevance in the study of Pharmacognosy.
COMPUTER LAB:
Computers have become an essential part in all walks of life college has full-fledged computer laboratory with internet connection. The institution is equipped with LCD, Scanner, CD writer and other equipments wherein the students and teacher educators fully avail the facilities.
AUDITORIUM :
The college Auditorium has a fixed stage and having capacity of 1000 seats comfortably with centralized air conditioner and is with state-of-the-art multimedia system also it is a multi use concert hall with wonderful acoustics and a warm and welcoming ambience. It is used for music, dance, theatre, annual functions and film performances, as well as lectures, conferences and graduations..